This site is home to the tileplow. What is a tileplow? The most efficient method to install farm drainage tile or corrugated tubing into farm fields. We keep our prices competitive, by keeping our advertising rates low. We have been using the internet for the past 15 years to sell Tileplows directly to the end user; farmers, and drainage specialists. We do not sell trenchers, our units put tile in the ground much faster than trenchers.
We use technology to make our tileplow better!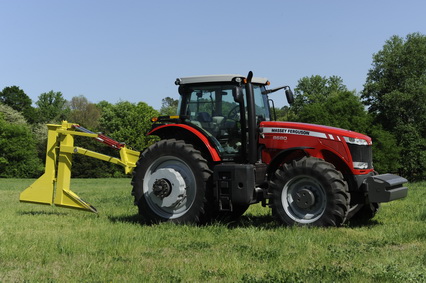 Small 3pt. model with 4" boot

Here are some of the features of our Tileplows:

| | |
| --- | --- |
| | Quick change boot from 4" to 6" tile. |
| | Replaceable front face on plow surface. |
| | Powder coat paint. |
| | Zinc plated replaceable pins. |
| | Standard off-the-shelf hydraulic cylinders made in the USA! |
| | Quality hydraulic hoses made in the USA. |
| | Chain depth gauge |

We supply quality products, that are made in a manufacturing facility, not a welding shop!
ANSYS Finite Element Analysis is used to test products before they are built. This process is called Simulation Driven Product development
CAD/CAM technology utilized through-out the production process.
All units are complete and ready to use, no long list of options.
3 Point Cat. III mount includes pins
Manufactured in the State of Iowa with products made in the USA.
Pick up your tileplow at one of two convenient locations.

Recent News

| | |
| --- | --- |
| | Water line boots are now available for the installation of HDPE water line. |
| | Check out the YouTube video from one of our satisfied Canadian customers. "Simple to operate and save $$$." |
| | Looking for tile in the Ohio area, |
| | Drainage Fact sheet by Gary Sands, University of Minnesota Extension Agricultural Engineer. |
| | Need a laser or GPS contact |
| | Read the January 2011 Successful Farming article about high yield and the "Nine Tile Drainage Benefits" |
| | Visit the Articles web page for "How to" information. Read about how to install farm drainage tile and the advantages of tiling your fields. |

Contact Information
For more information fill out a product request form online or send an email.
Telephone: 515-309-9884 (Please leave a message and we will be paged)
Hours of operation
Sales and information : 16:00-22:00 daily

Warehouse: 7:00-23:00 daily


Electronic mail

General Information: scott@jescowebs.com
Web address: http://www.tileplow.com